Lisa wanted a Header for her new look at
Lisa Shaw Ministries
. She has such a heart for women and for Jesus.
Click Image to Enlarge
Client Comments:
I SOOO appreciate you and the header looks good!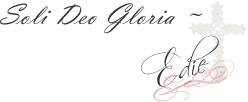 All content on this site is copyright protected. Using or obtaining the graphics on this site in any way other than specified on this site is a violation of the copyright. Please respect my work.© 2008-2011, Edie Moore
Lisa Shaw is the Author of "You Are Beautiful in God's Eyes"
Business Cards for Lisa Shaw
Logo Buttons for Lisa Shaw
Blog Design for Sharing Life with Lisa