Jan's blog,
J4C Home
began as a way to advertise the jewelry she makes and sells on her Etsy shop to help support her church's water ministry to Kalo, Ethiopia. Since then it has grown into much more as Jan shares her creative projects, recipes, reviews, giveaways, and more.
Jan's blog design includes a Sponsors section, Social Media buttons, Sidebar Headers, a Logo Grab button, and a coordinating Scripture Tag as my gift.
Click Image to Enlarge
Client Comments:
Oh my gosh, Edie... it's beautiful! I sure am glad you're leading me through this, because I wouldn't have thought of all these things.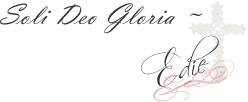 All content on this site is copyright protected. Using or obtaining the graphics on this site in any way other than specified on this site is a violation of the copyright. Please respect my work.© 2008-2011, Edie Moore