Lisa wanted a design for her pro-life ministry,
His Love Covers Our Sins
, that was pleasing to the eye, professional, and easy to read and navigate.
Client Comments:
Oh Edie I was so blown away as is Peter and Adriana who viewed it with me.

Can you see my BIG SMILE? I love you and I pray God would POUR OUT UPON YOU EDIE IN A WAY YOU CAN'T CONTAIN for your goodness to all of us. I love you and thank you thank you thank you!!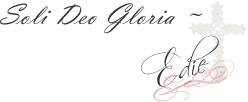 All content on this site is copyright protected. Using or obtaining the graphics on this site in any way other than specified on this site is a violation of the copyright. Please respect my work.© 2008-2010, Edie Moore
Lisa Shaw is the Author of "You Are Beautiful in God's Eyes"
Header for Lisa Shaw Ministries
Logo Buttons for Lisa Shaw
Blog Design for Sharing Life with Lisa