In
my previous post
I introduced you to DropBox, a public resource for storing documents that you can link to from your blog. Today I want to show you another option, Webs.com. I told you about Webs.com in
this article
and how you can use it to grow your blog ministry without having to move your blog. One great way you can use Webs.com is to
privately
store your PDF and other documents for you to use as you like on your blog.
Webs.com
is a free website. You can just follow the link to sign-up. The free website does have some limitations, it is free after all.
:)
I think it may take about a week before you have access to upload files. Not sure about that. I've been using mine for so long I don't remember.
On to the tutorial.
1. When you sign in to your webs.com account it will take you to your Dashboard.
2. On the left there will be a section labeled SITES I'VE CREATED (you can have multiple websites). Click on the VIEW CONTROL PANEL button under your site name.
(Click Image to Enlarge)
3. Click MANAGE PAGES & APPS.
(Click Image to Enlarge)
4. Click FILE MANAGER.
(Click Image to Enlarge)
5. In this section you can create folders to organize your files. You can upload images, documents, and media such as videos. Select the folder you want to store your documents in (or make a NEW FOLDER).
(Click Image to Enlarge)
6. Click SINGLE FILE UPLOADER. (You would need to upgrade your account to use the Multi File Uploader.)
7. Click BROWSE to locate the file you want to upload.
8. Click UPLOAD FILE.
(Click Image to Enlarge)
9. Now you can just click on the file and it will open your PDF in a new tab.
10. Copy the URL (website address) and
link it
into your blog post or sidebar. Where ever you want your visitors to access it.
If you don't want to wait a week to upload your pdf files, you can gain immediate access by upgrading your webs.com account. Upgrades begin at only $3.75 a month.
What I love about using webs.com is that my files are stored on my own private site and I have access to them anytime I want.
I don't have to install a 3rd party software on my computer and nothing in remotely accessing my computer.
Also, as I've mentioned before, using webs.com provides opportunity to expand my ministry beyond just a blog.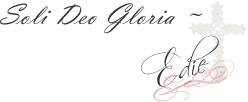 All content on this site is copyright protected. Using or obtaining the graphics on this site in any way other than specified on this site is a violation of the copyright. Please respect my work.© 2008-2011, Edie Moore