Sometimes you might want to share a PDF document on your blog such as an excerpt from your book, or a marketing brochure with details on your upcoming speaking engagement. Documents like PDF files need to be uploaded to a storage area on the internet in order to be displayed on your blog. Blogger doesn't offer storage space for documents so today I'm going to provide you with two options for using PDF documents on your blog.
If you like online Tools and Apps then you might like DropBox.
DropBox
is just that, a free online application for storing PDF documents. You download their software, install it on your computer, and it automatically uploads your specified documents to the DropBox website where it is stored. Then DropBox provides you with a link to the file that you place on your blog or in your post and when your visitors click on the link they view your document.
Some things to consider: (this is not a comprehensive review of all the features)
I have read the terms of DropBox services and I have to say that they do appear to be a company of integrity. They honor intellectual property rights (copyright) and state that they protect your intellectual property rights to the fullest extent within their means. Integrity is always a plus in my book.
DropBox is a public document storage host. This means that they have control (not you) over how and where your documents are stored, saved, backed-up, protected, and deleted. If you delete your files they might not actually be deleted from DropBox storage, at least for a while.
When you install the software on your computer it links the DropBox website to your computer and it stays linked. There is a button to unlink but I discovered when I did unlink, a window opens everytime I start my computer prompting me to sign-in or register. Both of these hit a nerve with me. I don't like outside sources linked to my computer and when I turn off a piece of software on my computer I want it to stay off until I decide I want to turn it on again.
If you stay linked then DropBox uses your computer's bandwidth. You can limit the bandwidth it uses but there are trade-offs. Reducing bandwidth could cause files to upload or download slower. Increasing bandwidth could cause your computer to run slower.
DropBox does have a limit on free storage space available for your documents. In many cases it is likely to be enough but if you upload large files you might need to upgrade to increase your storage space. Upgrades start at $9.99 a month.
In my next article we'll look at
another option
.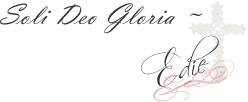 All content on this site is copyright protected. Using or obtaining the graphics on this site in any way other than specified on this site is a violation of the copyright. Please respect my work.© 2008-2011, Edie Moore