You've been blogging for a while, things are going well and now you feel it's time to grow your ministry. Your simple blog isn't quite enough but moving could cost you more than is in your budget, or you might lose your subscribers in the transition. There is another option.
Instead of going through the time, expense, (and worry) of moving your blog, just add another dimension. Webs.com offers free websites where you can add apps, store documents & files like pdf documents, start a forum, and setup a store.
So how can this add dimension to my blog?
I'm glad you asked. :) In webs.com menu bar you can add an external link directly to your blog, and on your blog you add navigation to specific pages on your website. Let's say you want to add a store to your blog. You would setup a STORE menu on your blog that links to your store that is hosted on webs.com. Then from the menu bar on webs.com there would be a BLOG link to bring your visitor back. Sound confusing? I'm in the process of setting mine up now. Click this
STORE
link. Then click the DESIGNS link in the menu bar at the top of the page to get back. The links can be setup to open in a new tab or just go straight to the page from the same tab.
To pull it all together you will want to give both sites the same or similar designs as I have done with mine. (Yes, this is something I offer as part of my services.)
Since webs.com is free you can use as few or as many of their options to enhance your blog and open up a whole new world of growth potential. They also offer upgrades with more options starting at under $4.00 per month.
Next I will show you how you can use webs.com to store your pdf documents for use on your blog.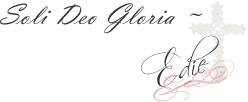 All content on this site is copyright protected. Using or obtaining the graphics on this site in any way other than specified on this site is a violation of the copyright. Please respect my work.© 2008-2011, Edie Moore