Dear Friends,
God has so blessed me with the best clients. I am so very thankful for all of you and still amazed at the continuous increase in the work He brings my way. I am unable to accept jobs at this time beyond those already listed in my sidebar. I won't be out of commission for too long. I have just had too much going on all at once and need to slow things down a bit.
God is also leading me to research and learn some interesting new things that I believe will benefit many of my clients so I need a little time to put into that too.
I will be posting notification when I am able to accept jobs again. You can subscribe to my posts from my sidebar to be sure you don't miss my notice and any free offers I post.
I'm still only an email away if you need help with something.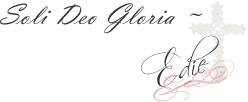 All content on this site is copyright protected. Using or obtaining the graphics on this site in any way other than specified on this site is a violation of the copyright. Please respect my work.© 2008-2011, Edie Moore