God has been blessing me with quite a bit of business lately and I am so thankful to Him and to each of you for coming to me. To help us all out I have setup a Job Status list in my sidebar where you can find out at a glance the status of your job and where you are in the que.
For the sake of privacy, instead of using names I have identified the client by initials followed by blog (or website) initials.
I hope this is helpful to all of us.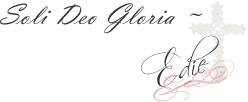 All content on this site is copyright protected. Using or obtaining the graphics on this site in any way other than specified on this site is a violation of the copyright. Please respect my work.© 2008-2010, Edie Moore