Rebecca Ingram Powell is making some changes with her blog beginning with an update and her new blog name,
Mom Seriously
. She has some great new things planned so go pay her a visit. I always enjoy working with Rebecca. She is an absolute delight!
Client Comments:
I love it. I think you have nailed it! I LOVE it, Edie! Thank you so much!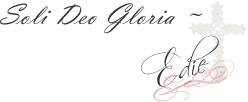 All content on this site is copyright protected. Using or obtaining the graphics on this site in any way other than specified on this site is a violation of the copyright. Please respect my work.© 2008-2010, Edie Moore