Are you experiencing formatting problems when you post in Blogger? You might try the newer Post Editor that is available.
Just go to your Settings under the Basic link. Scroll down under the Global Settings until you see "Select post editor".
Select the " Updated editor".
This seems to have fewer formatting problems.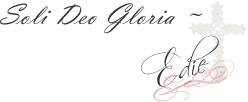 All content on this site is copyright protected. Using or obtaining the graphics on this site in any way other than specified on this site is a violation of the copyright. Please respect my work.© 2008-2010, Edie Moore