Debbie at
1719 JamieLu Lane
is excited about beginning her blogging journey and wanted to begin with a design that represented who she is. She wanted something soft and simple in design with social media button so her friends could connect with her on facebook, twitter and her new etsy shop.
Click Image to Enlarge
Client Comments:
You are very talented! It is looking so pretty. Thank you for being there for me through this whole process... this is all so new to me.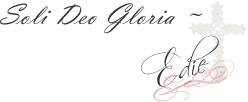 All content on this site is copyright protected. Using or obtaining the graphics on this site in any way other than specified on this site is a violation of the copyright. Please respect my work.© 2008-2011, Edie Moore