Recently Sherry at
Lamp Unto My Feet
had a giveaway to celebrate her blogoversary. One of the winning prizes she offered was a custom logo button designed by me and Liz at
The Giveaway Obsession
won! Congratulations Liz! It was a pleasure working with you!
Thank you Sherry for choosing my services as one of your giveaway prizes!
Use the code below to add my button to your sidebar. Need Help?
Click Here
Client Comments:
I love it!! It looks great! Thank you so much!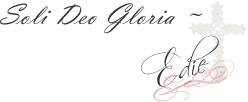 All content on this site is copyright protected. Using or obtaining the graphics on this site in any way other than specified on this site is a violation of the copyright. Please respect my work.© 2008-2010, Edie Moore