Rebecca Ingram Powell at
Mom Seriously
is beginning a Purity series and wanted a button to help get the word out. If you don't know Rebecca, you should pop over and meet her. Besides being one of the nicest ladies I know, she is a nationally know author and speaker, and a columnist for ParentLife Magazine.
If you have middle-schoolers or teens at home, be sure to check out Rebecca's books and her
Porn and Purity
series.
Client Comments:
Beautiful! Thank you soooo much. P&P button looks GREAT. I love it.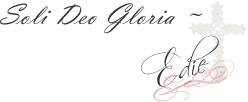 All content on this site is copyright protected. Using or obtaining the graphics on this site in any way other than specified on this site is a violation of the copyright. Please respect my work.© 2008-2010, Edie Moore