As a Messianic Christian, Spring sensed God calling her back to her roots. She wanted a design for her new blog,
Toasted Matzoh
, that depicted her ministry and her love for her Messiah Yeshua. I was so delighted to get to know Spring and I can hardly wait to start reading her posts. She has some great topics planned so you might want to go follow her and subscribe to her posts.
Click on the image to enlarge.
Client Comments:
Again, I cannot express how much I love the blog design. It's amazing. Such a God thing. You definitely have a gift!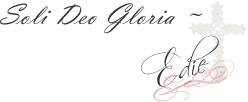 All content on this site is copyright protected. Using or obtaining the graphics on this site in any way other than specified on this site is a violation of the copyright. Please respect my work.© 2008-2010, Edie Moore