The following are the services I offer, along with information about that service that should answer many of your questions such as what is included or what an item is. Please feel free to contact me if you have additional questions.
I am a graphic illustrator as well as as designer. What that means is that I generally illustrate my own graphics as opposed to using stock images in my designs. The more detail in an illustration or the more specific your requirements, the more work will be involved in the design.
My clients often express a strong desire to be fair in their payment of my work. I very much appreciate that as this is a means of income that God is providing for me to live on. I ask that you pray about the amount and pay what God lays on your heart. I believe this breakdown should help in making your decisions about your design and how you should pay. Please keep in mind that each service is additional work and should be viewed as an additional job.
Standard Services Included in a Blog Design:
This is considered one job.
Header
:
The header is the focal point of your design. This is where I incorporate your personality, style, and ministry message. All other elements will enhance the header.
Background
: A background refers to either color or a tiled pattern that is behind the blog design. A background is not the blog design like the free "backgrounds" that many people use. That type of "background" is one large picture that stays in place while the text on your blog scrolls when using the scroll bars. I create full blog designs that work with the aspects and functions of your blog, not single-image fixed page backgrounds.
Sidebars
:
Please specify how many you would like and their placement. I can assist you if you are uncertain.
Decorative Sidebar Titles or Dividers:
This could be a background behind the title an icon next to the title, a decorative divider between gadgets, or a frame around each gadget. I will decide on something that coordinates well with your design.
Post Divider or Decorative Post Title or Decorative Post Date
: I will design one or two of these into your blog design as is appropriate to your design. It is rare that all three will look good in one design.
Decorated Blockquote:
Click on the link for more information about a
blockquote and how to use it
.
Remove Blogger Navbar
: This is the blogger bar at the top of the blog. I will provide a login link on your blog for you to login and access your dashboard.
If you do not want me to remove the navbar, please let me know.
Logo Grab Button
: With code box underneath.
Custom Signature
:
Please let me know what you would like it to say. If you have a font preference please specify. You can select fonts from
Urban Fonts
and let me know the names of the fonts you like.
Coordinating Scripture Tag
:
All of my Scripture Tags are free. As my gift to you, I include a coordinating Scripture Tag exclusive to your blog design. Please let me know what scripture you would like me to use and if you have a translation preference. I do not quote from the Message.
---
Blog Design Extras
:
These are not included as a standard part of the blog design but are considered extras and by request. Each is an additional job. Extras can be added to your blog at a later date if finances do not permit at the time of your blog design.
Decorated Navigation Bar
: Please let me know what menu items you would like.
Drop-down Menu
: Please let me know what menu items and sub-menu items you would like.
Sidebar Category Headers
: This might be in lieu of a decorative sidebar title as having both often gives a crowded appearance.
Sidebar Icon Decorations
: These are icons used in bullet lists in your sidebar in place of a dotted bullet.
Social Media Icons
: Please let me know which ones you would like and the associated links. Facebook, Twitter, Subscribe, Subscribe by email, Email, other.
Featured Content Slider
: This is a slideshow type slider for your homepage that allows you to feature specific blog posts.
---
Additional Services
:
Meme Buttons
Book Cover Designs:
I will need to know the graphic specifications from your publishing source. There is often a template made available for downloading.
Birthday or Holiday Graphics
: These are great for decorating your blog, gift-giving, or giveaways.
Custom Graphics
: This refers to graphics for online use on a blog or website.
Etsy Banners and Avatars
Animated Graphics
: Animated graphics must be made as a gif file which is the lowest quality file type for graphics. I don't focus on animated graphics but can design them if you have a need for them. I design them in high resolution to improve the quality as much as possible for this file type.
Custom Website Design for
Webs.com
: View some of my
Webs Designs
.
---
Logos and Branding for Your Ministry
:
Designing a logo for printing is completely different that designing a logo for online purposes. My graphics are high resolution vector graphics to maintain smooth lines and quality appearance when the size is adjusted for the printing purpose. The best quality logo is a vector graphic that is simple in design. Special effects such as shadow, and glow effects don't work well in many printing jobs. I will provide you with png, psd, and ai file types of one logo design to meet your printing needs.
What you should know about using graphics for printing
:
Not all printing is created equal - Not all graphics are created equal. Different printing needs require different size and shape graphics. If you consider the size and shape of a pen, a mug, a t-shirt, and a banner, then you should be able to understand that a different size and shape is required for optimal appearance when printing on each item. You cannot simply stretch a square shaped logo to fit a rectangular shape because it will distort the proportions.
Using a local printing company
:
You will be able to take the graphics I provide to a printer and their graphic artist will have the appropriate software to resize the graphic for the printing need.
Using an online printing source
:
If you plan on using an online printing source then you will need the appropriate file size when you upload the image. They will have a section with artwork specifications to let you know the exact specifications, file type and size, for the item you wish to print on. They will often provide a means for some size adjustments but there will be limitations. Please understand that I cannot make unlimited alterations to your logo for every product you may want to use it on. If you will let me know in advance what the item specifications are I will provide you with up to three different sizes for your printing. Any additional changes or sizes needed at that time or in the future are considered additional jobs.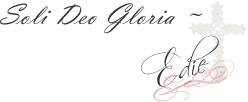 All content on this site is copyright protected. Using or obtaining the graphics on this site in any way other than specified on this site is a violation of the copyright. Please respect my work.© 2008-2010, Edie Moore