One of the things I am asked frequently is how to put text in a blockquote.
This is a blockquote. It is an area of text that is indented to make it stand out from other text. I always decorate the blockquote when I design a blog so that it has a border and/or background like you see here. Not all templates come with a decorated blockquote.

Placing text inside a blockquote is very easy. From within the post editor, you highlight the text you want in the blockquote, then click on the button in the menu bar that looks like quote marks.
You will see the text indent, but you won't see the decoration until after the post has been published. That's all there is to it! Now go blockquote to your heart's content.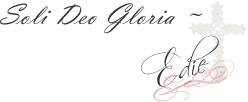 All content on this site is copyright protected. Using or obtaining the graphics on this site in any way other than specified on this site is a violation of the copyright. Please respect my work.© 2008-2010, Edie Moore