Nannette at
Life: Be In It!
emailed me with this update. Please pray for Baby Mia's family.
Baby Mia went to heaven April 12th at 11:00pm. I had no idea she'd pass so quickly. She is in a better place, but her family sure is sad. The button is very sweet. I thank you so much. Thank you to all who put the button on their blogs & prayed. God bless you all.
Nannette at
Life: Be In It!
requested a prayer button for Mia. Little Mia has been diagnosed with Leukemia. She has been in the hospital over two weeks and is in intensive care right now. Please pray for Mia.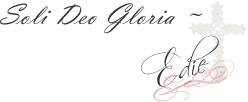 All content on this site is copyright protected. Using or obtaining the graphics on this site in any way other than specified on this site is a violation of the copyright. Please respect my work.© 2008-2010, Edie Moore