Maria at
The Truthfairy ~ "If you really wanna know!"
helps women with weight loss and self image through her life coaching ministry. She wanted a design that reflected this purpose.
Client Comments:
Looks FABULOUS! The barefoot idea, I love it!!! That is totally me...be beautiful, but FREE. Thank you for connecting with my maker....HE KNOWS ME BEST! Oh, and the lavender butterfly----the icing on the cake!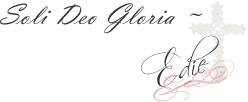 All content on this site is copyright protected. Using or obtaining the graphics on this site in any way other than specified on this site is a violation of the copyright. Please respect my work.© 2008-2010, Edie Moore