Here are a few tips to help curb the spammer commenter. They are trying to promote themselves, their websites, or their products so they leave comments like the ones below.
美麗 said...
有人兩眼一舌,是為了觀察倍於說話的緣故。 .......................
In this case all of the dots and boxes would be links to different websites.
Or they leave a comment like "Beautiful Design.
Best Blog Designs
" .
One option is not to allow anonymous users.
Go to Settings and click on the Comments section. Scroll down until you see this option and select your preference. Remember that some legitimate comments are sometimes left by anonymous users so this may not be the best option for your blog.
Turn on your comment moderation
. This is also found in the Comments section of your Settings. I try to leave comment moderation off in consideration of my commenting guests. When the spammers become abundant then I will turn it on for a period of time. This will cause them to give up on my blog and go elsewhere.

Delete comments left by the spamming commenter. Do not just ignore them. When you leave the comment with the links in place, you are helping to promote those spammers by increasing their search engine page rank so they will return to your blog and leave more spam. To delete the comment just click on the little trash can icon under the comment then select Delete Forever. That will completely remove the comment and all links.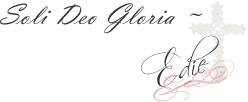 All content on this site is copyright protected. Using or obtaining the graphics on this site in any way other than specified on this site is a violation of the copyright. Please respect my work.© 2008-2010, Edie Moore