Alice at
From the Heart
asked how to block an unwanted follower from the followers gadget.
Click the Sign In link directly under your followers gadget in your sidebar.
Sign In.
Click on the Options link above your followers gadget but under your name.
Select Manage Members.
Locate the follower you want to block in the followers list and click on the picture.
Click the Block This User link located directly under their name.
You're finished!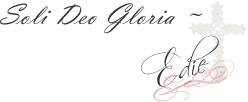 All content on this site is copyright protected. Using or obtaining the graphics on this site in any way other than specified on this site is a violation of the copyright. Please respect my work.© 2008-2010, Edie Moore