One way you can increase your page rank in Google, Yahoo, and other search engines is to use your blog description wisely. Your blog description is actually used as a meta-tag for search engines to find your blog. It is the perfect place to enter keywords that someone might use in a search to find your blog even when it is not physically visible on your blog. Search engines look under the hood too.
For instance... If you are an author and speaker for Pro-life ministry you might consider keywords like "Christian Speaker, Author, Writer, Pro-Life Advocate, Abortion, Women's Ministry". You would then write your blog description using as many keywords that pertain to your ministry as you can.
Keep it real, honest, and logical, and don't over use keywords. It doesn't help and can actually hinder your efforts.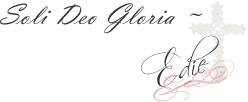 All content on this site is copyright protected. Using or obtaining the graphics on this site in any way other than specified on this site is a violation of the copyright. Please respect my work.© 2008-2010, Edie Moore