FREE Scripture Tag to use on your blog or website.
Helping you spread the Word through your ministry.

"Though your sins are like scarlet, they shall be as snow;" Isaiah 1:18

Please do not alter the tags or the code in any way.
Place the code below the scripture tag into your HTML gadget and by all means, ENJOY!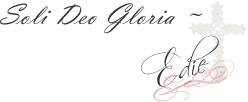 All content on this site is copyright protected. Using or obtaining the graphics on this site in any way other than specified on this site is a violation of the copyright. Please respect my work.© 2008-2009, Edie Moore