Karen at
Surviving Motherhood
won my blog makeover giveaway recently and her new look is complete. Karen is a Christian speaker and author of two books that focus on finding God in the trials of motherhood. I absolutely loved working with Karen and getting to know her better. She is a sweet and godly lady, and I'm pleased to call her my friend.
To celebrate her *New Look*, Karen is having a giveaway, but it is for today only (Thursday), until 10:00pm EST. Please go visit her blog for all the details. She will ask you a specific question about what the *real* element is in her blog design, but you will need to leave the answer over here at this post. I will announce the winner here tomorrow (Friday).
Includes
:
Post Divider
Post Title Icons
Coordinating Scripture Tag
Contact Button
Link Buttons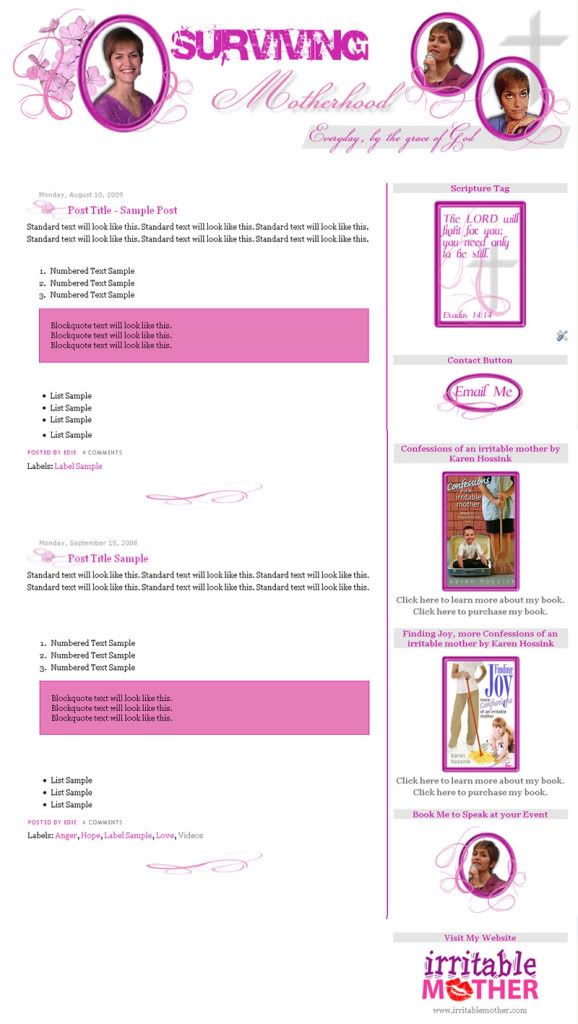 Client Comments:
It's great. I love it!!! I am especially fond of the flowers and squiggly marks at the beginning and end of posts. Thank you. So much! I am so excited about my new blog layout!