I am long over due for a give-away so since I'm celebrating my someteenth birthday, I have decided that makes it a good time to have a
Give-away
! The winner will get a
Custom Blog Makeover
(Blogger only) or, if you already have a blog design that you love you can choose a custom graphic for any blog or website.
The winner can even gift it away
! Christmas is coming up and a Blog Makeover is a great gift!
To Enter:
Leave me a comment and include a Scripture Verse that you love.
Want more chances to win?
For every place where you post about this contest you will gain another entry. You must include my button (when possible), and a link back here in your post. You will also need to come back here and provide me with links to your posts. You can do a blog post, post in your sidebar, or post on facebook. Each will gain another entry.
Be sure to leave a way for me to contact you if you are the winner. Contest will end at 4:00 pm CST on Saturday 11/14/09. Winner will be selected by random number and posted on Sunday, 11/15/09.
Best Wishes! Have Fun! Tell All Your Friends!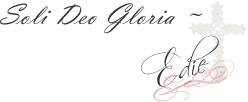 All content on this site is copyright protected. Using or obtaining the graphics on this site in any way other than specified on this site is a violation of the copyright. Please respect my work.© 2008-2009, Edie Moore