Beth at
warmHarte
requested this prayer button for her friend's grandson Tyler.
Tyler is 4 years old and he was just diagnosed this week with lymphoma, discovered by what was thought to be a severe ear infection which actually was a mass in his ear canal. Biopsies of this revealed lymphoma of the brain, and additional testings have located additional areas of cancer in his lung and also liver. Chemo hasn't been started yet—still trying to assess which is the best treatment to use—but, this will eventually be started.
Thank you for praying.
Use the code below to place on your sidebar. Need Help? Click Here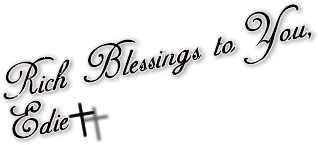 All content on this site is copyright protected. Using or obtaining the graphics on this site in any way other than specified on this site is a violation of the copyright. Please respect my work.© 2008-2009, Edie Moore