Custom Three Column Blog Design for Debbie at
Heart Choices
Custom Logo
Custom Category Headers

Custom Signature

Custom Post Divider

Custom Coordinating Scripture Tag - My Gift to Debbie

Client Comments:
I absolutely LOVE my blog makeover!

It is more than I imagined and so me.

My husband's jaw dropped when he saw it.

You are so talented and creative Edie.

And best of all, I love how you pray about each project you take on.

He guides you and I can say He guided just perfectly with Heart Choices.

I am thrilled and I thank you from the bottom of my heart.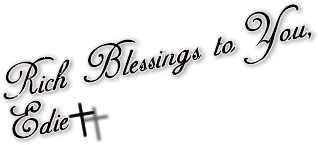 All content on this site is copyright protected. Using or obtaining the graphics on this site in any way other than specified on this site is a violation of the copyright. Please respect my work.© 2008-2009, Edie Moore