Jody wanted help creating a professional look for her devotional blog
Jody Martinez Reflections
. Together we came up with a design that met her vision and purpose. Her design includes a decorated navigation, date, blockquote, and post divider, a custom signature, and a logo button. Jody added social media buttons, and I included a coordinating Scripture Tag as my gift.
Click on the Image to Enlarge
Client Comments:
Good morning. I couldn't sleep I have been so excited. I woke up early and got on my computer and saw you had already sent something. When I saw the scripture tag I started crying. Thank you so much. I can't tell you how happy I am.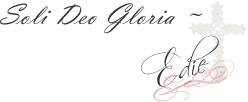 All content on this site is copyright protected. Using or obtaining the graphics on this site in any way other than specified on this site is a violation of the copyright. Please respect my work.© 2008-2011, Edie Moore
Like us on Facebook -
fb.com/RichGiftsBlogDesign