Beth at
An Instrument 4 His Glory
wanted to brighten up the look of her blog with a new design, some fresh colors, a wide sidebar over two thinner sidebars, and facebook and twitter buttons. Click on the link to visit Beth and get to know her. She is a wonderful lady who loves the LORD deeply.
Click Image to Enlarge
Client Comments:
I just LOVE it! It is BEYOND, BEYOND my imagination! It is just beautiful. Thank you so much my precious friend.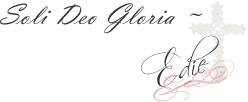 All content on this site is copyright protected. Using or obtaining the graphics on this site in any way other than specified on this site is a violation of the copyright. Please respect my work.© 2008-2010, Edie Moore