Lynn at
Wildflowers and Country Roads
is my first blog design of the year. Lynn recently retired and is looking forward to journeying on country roads with her husband. She wanted a design that reveals her love of God's creation as she writes about their journeys.
Click Image to See Full Design
Client Comments:
Oh Edie, there is no doubt that you work with Him, as only He could know my heart so well. It is exactly what I wanted.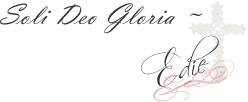 All content on this site is copyright protected. Using or obtaining the graphics on this site in any way other than specified on this site is a violation of the copyright. Please respect my work.© 2008-2010, Edie Moore