You have multiple blogs and you want to delete one but you don't want to lose the content. You can easily import your posts from one blog to the other. Just follow the steps below.
1. Beginning in the blog you want to move content
from
(we will call this blog A). Go to the Settings tab.
2. Under the Basic link, at the top you will see
Import blog
-
Export blog
-
Delete blog
Click on Export Blog.
3. Click the DOWNLOAD BLOG link.
4. You will be prompted to Open or Save file. Select Save File.
5. Save the file to a folder on your computer. Be sure you remember where it is.
6.Next go to the blog you want to move content
to
(blog B). Go to the Settings tab.
7. Select Import Blog.
8. Click the Browse button and locate the folder on your computer where you saved the file from blog A.
9. Select the file and click Open.
10. Enter the Word Verification in the field box.
11. If you want your imported posts to publish automatically when they upload, select the "Automatically publish all imported posts" check box. If you do not select this box then your posts will appear in the Edit Posts section and you will need to publish them manually.
12. Click Import Blog.
That's it! All of your posts from blog A (including comments) will now be in both blogs. Both blogs will remain in tact and no information will be lost. Only the posts will be transferred, not the design or the sidebar gadgets.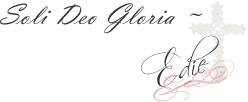 All content on this site is copyright protected. Using or obtaining the graphics on this site in any way other than specified on this site is a violation of the copyright. Please respect my work.© 2008-2010, Edie Moore