You have a new Blog Design that matches your ministry purpose and your personality, but your Networked Blogs thumbnail image is your old blog design. Here is how to update it in Networked Blogs.


1. Go to Networked Blogs.
2. Click on the ADD YOUR BLOG button at the bottom of the page.
3. Login to your facebook account.
4. In the upper left corner underneath the Networked Blogs logo, click on Profile. (NOT your facebook profile)
5. In the section that says Blogs I Write, click on your blog title.
6. On the right side underneath your blog image, click on the Refresh Thumbnail link.
7. When you refresh the page it should show your current layout. It may take a few minutes to update.



That's it!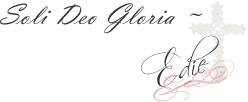 All content on this site is copyright protected. Using or obtaining the graphics on this site in any way other than specified on this site is a violation of the copyright. Please respect my work.© 2008-2010, Edie Moore