Angie Knight came to me for a custom website for her new venture,
Sisters by Heart
, which is being launched today! God has planted a dream in Angie's heart that began when she organized the Blogger's Retreat last year. Well God has so much more is in store. Another retreat is being planned for October so start saving a little each week! Click over to
Sisters by Heart
for all the details and to check out the new website!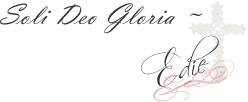 All content on this site is copyright protected. Using or obtaining the graphics on this site in any way other than specified on this site is a violation of the copyright. Please respect my work.© 2008-2010, Edie Moore