Kim at
That's Life by Kimmy G.
loves to encourage and build up women. She wanted a professional look that welcomed her visitors with a comfortable, homey feel. Kim was a delight to work with and is certainly gifted in her area of encouragement. Please pay her a visit and introduce yourself.
Client Comments:
I'm so excited. I'm very grateful for your work!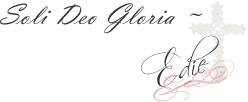 All content on this site is copyright protected. Using or obtaining the graphics on this site in any way other than specified on this site is a violation of the copyright. Please respect my work.© 2008-2010, Edie Moore