Debra at
Clothed With Scarlet
wanted a new look that would reflect her love for the LORD and for her family. Debra's desire to to minister to her family by living out the Proverbs 31 woman. If you have ever been to her blog or friend her on facebook then you know that she lives it out well.
Photo of Rose with Nails courtesy of Lavonda at
What's UP
Client Comments:
Wow!!! Edie...my heart just lept for joy! Let me see if I can get past the tears! I was just about to give up blogging when I sought the Lord and He led me to you. I asked the Lord "what brings you glory?"...that's where I want to be. And He led me to you and now I know why. I'm thankful for Him and that majestic whisper of His. I'm thankful for the still time I had to hear it. I love everything.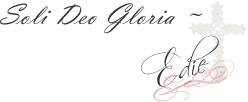 All content on this site is copyright protected. Using or obtaining the graphics on this site in any way other than specified on this site is a violation of the copyright. Please respect my work.© 2008-2010, Edie Moore