Marsha at
Marsha's Musings
decided she wanted to clean up her sidebars and give her blog a fresh uncluttered feel as well as a relaxed welcome atmosphere. In addition to widening her writing space, and removing the blogger navbar, I created a navigation bar to include pages for much of what is currently on her sidebar.
Sidebar Categories



Client Comments:
Edie I am TOTALLY happy

!!! It looks wonderful. Thank you! I'm thrilled! I can't wait to see it on my own site.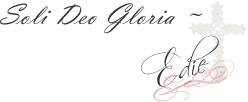 All content on this site is copyright protected. Using or obtaining the graphics on this site in any way other than specified on this site is a violation of the copyright. Please respect my work.© 2008-2010, Edie Moore