It's time to announce the winner of
Karen's
giveaway for your choice of her books! Karen sent her readers over here to tell me what they believed conveyed the sense of being *real* in her new blog design. Well, when I first began working, I immediately thought of that picture on the right side of her Header where she's looking up at God with an expression that says "What do I do now?" or something to that effect. Most of you guessed that picture and are correct.
As I worked though, I emphasized the message of *real* when I used the tattered, frazzeled font for the word Surviving in contrast with the graceful, gentle font used in the word Motherhood. So if you guessed that then you were also correct.
Karen expressed that she wanted a cross in the design and it just seemed right that the best placement was behind the "Help Me" picture to convey that surviving motherhood requires leaning on Jesus for His strength and that He is always right there. So those of you who guessed the cross and it's strategic placement, right again.
That leads us to the Scripture Tag. Karen chose the scripture that she felt accurately represented surviving motherhood. Exodus 14:14 so accurately expresses the complete reliance on God to help moms raise up their children, so I titled it My Strength as the final piece that pulled it all together. If you guessed the scripture you are correct also.
So this means that all of you had a correct answer and were included in the drawing. But alas there was still only one winner, and that person is.....
Congratulations Patricia! Please make sure that Karen has your email address to contact you, or you can go play with her new Email Me button if you want. :)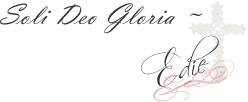 All content on this site is copyright protected. Using or obtaining the graphics on this site in any way other than specified on this site is a violation of the copyright. Please respect my work.© 2008-2009, Edie Moore