Click image for full size view
Christ is Born Garland 05
:
Available for your payment of any amount.
Click on the Payment button below to make your payment by credit card or PayPal. After you make payment you will be directed to a page where you can get the code and instructions.

The code is yours to keep to use on your personal blog or website year after year. Please do not distribute.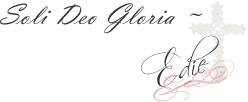 All content on this site is copyright protected. Using or obtaining the graphics on this site in any way other than specified on this site is a violation of the copyright. Please respect my work.© 2008-2009, Edie Moore