It's time to announce the winner of our blog makeover giveaway! Are you excited?? I used a random number generator to select the winner. And the winner is...
Karen, from Surviving Motherhood!
Congratulations Karen!

Thank you everyone for playing along. I will have more giveaways in the future and I will use your favorite scriptures to create some more free scripture tags for you. Be sure to follow my blog so you don't miss anything! Rich blessings to you!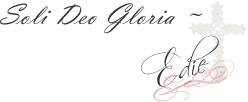 All content on this site is copyright protected. Using or obtaining the graphics on this site in any way other than specified on this site is a violation of the copyright. Please respect my work.© 2008-2009, Edie Moore