I think it's time for a Giveaway!
~ April 10, 2009 was my one year blogoversary for Rich Gifts.
~ April 25, 2009 I posted my 200th post to Rich Gifts. (I missed my 100th post also which was on 11/20/08.)
~ April 11, 2009 I posted my 100th post to Rich Gifts Graphics and Blog Design.
That sounds like a good reason for a giveaway doesn't it? :)
Hmmm what should the prize be? Well what else but a Blogger blog makeover or a graphic of choice... (header, blog button, signature, sidebar category buttons, etc). You may use it for yourself or gift it away.
Leave me a comment at this post to enter.
Ok, for those of you who want more chances to win ...
Follow this blog for another entry. Yes it counts if you already are but you must mention it in your comment.
Put my button in your sidebar for another entry. You must tell me when it is up.
Write a post about this giveaway for another entry. Make it a cute little rhyme for a bonus entry. You must tell me when it is posted.
That's up to 5 opportunities to enter!
Winner will be announced on Friday, June 19, 2009.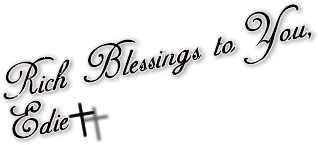 All content on this site is copyright protected. Using or obtaining the graphics on this site in any way other than specified on this site is a violation of the copyright. Please respect my work.© 2008, Edie Moore