Use Printed Scripture Tags to encourage others with the Word of God. Plant the Seed - Spread the Word.
These are great hand-outs for your conference, event, or function.
Perfect for decorating a gift.
Keep some on hand to leave with a generous tip the next time you eat out. Even if the service wasn't great, let the Grace of God be evident.
Planning a special luncheon, dinner, or meal for a group? Adorn each plate with a Scripture Tag appropriate for the event.
Add to a goodie bag to bless someone with the Word of God.
Promote your blog or website.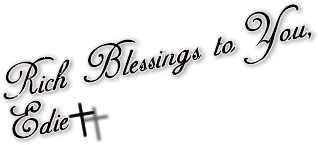 All content on this site is copyright protected. Using or obtaining the graphics on this site in any way other than specified on this site is a violation of the copyright. Please respect my work.© 2008, Edie Moore