When it comes to payment for online graphics and blog or web designs, I don't have set prices. I ask my clients to pray about it and pay the amount that God places on your heart. I am setup this way for a number of reasons.
God told me to do it this way and didn't give me any business until I did.


God knows my needs financially and wants me to trust Him completely to be my Provider, my Yahweh Yireh.


God knows your needs financially and what He will Provide for you to pay, and He wants you to trust Him for that.


I want to bless others with the skills that God has graciously given me.


Because my work is mainly for Christians, I am helping someone to forward the Kingdom in some way. I don't want anyone to feel that a professional appearance for their ministry is out of reach due to financial reasons. I believe God doesn't want anyone to feel it is unattainable also. If you are a Christian, your life is a ministry.


In the end, it's all God's doing and He is glorified. Including the design as I pray about that and ask God to direct me as I work.


I want to be a testimony to God's love and faithfullness.
I understand that it can seem difficult to come up with an amount but I can assure you that if you will pray about it, God will place an amount on your heart. He always does and I never question the amount.
My Services
Even though I design mainly for Christians, my services are also available to those who are not Christian. I do not design anything that is immoral, unethical, or in opposition to the teachings of the Bible, and I do not design for businesses that of that nature either. I ask that you consider and pay an amount that fair. I will trust God for the results.
Please use the Payment button in the sidebar to make your payment by credit card or PayPal. I will begin your design or installation after payment is received. All work is done in the order it is received.
Installation Information
I will need your Blogger login and password information to complete the install. You can change your password temporarily while I do the install if you are more comfortable with that. You can make changes to your Google Account by logging in to
www.google.com/accounts
and selecting the option to change your password.
Ordering Information
To place your order click on the contact button to send me an email. For custom work I will respond by email to discuss your design, personality, style, and ministry. It is very important to be as specific as possible to help me create the design you love.
I look forward to working with you.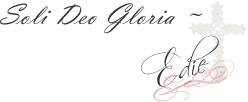 All content on this site is copyright protected. Using or obtaining the graphics on this site in any way other than specified on this site is a violation of the copyright. Please respect my work.© 2008, Edie Moore